Ambivirus
VIRION
Unknown, discovered using viral metagenomics.

Hybrids of RNA viruses and viroid-like elements replicate in fungi Marco Forgia, Beatriz Navarro, Stefania Daghino, Amelia Cervera, Andreas Gisel, Silvia Perotto, Dilzara N Aghayeva, Mary F Akinyuwa, Emanuela Gobbi, Ivan N Zheludev, Robert C Edgar, Rayan Chikhi, Massimo Turina, Artem Babaian, Francesco Di Serio, Marcos de la Pe?a Nat Commun. 2023 May 5;14(1):2591
GENOME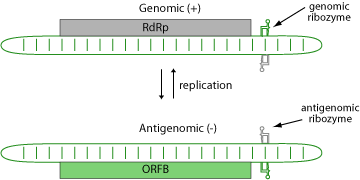 Circular, ssRNA genome of about 5 kb. Most of the genome displays complementary strands. Replication occurs by rolling circle, single genome being cleaved/ligated by ribozymes.
GENE EXPRESSION
Ambisens genome encoding for two conserved open reading frames (ORFs) A (RdRp) and B, one in each polarity strand.
REPLICATION
NUCLEAR