VIRION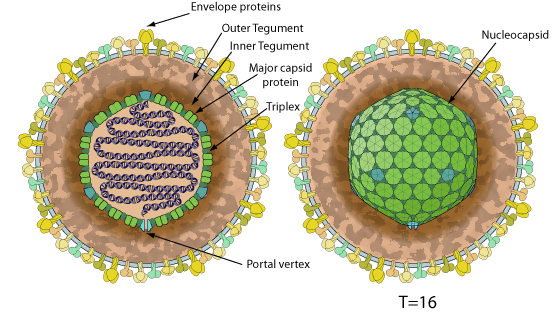 Enveloped, spherical to pleomorphic, 150-200 nm in diameter, T=16 icosahedral symmetry. The capsid consists of 162 capsomers and is surrounded by an amorphous tegument. Glycoproteins complexes are embedded in the lipid envelope.
GENOME
Monopartite, linear, dsDNA genome.
GENE EXPRESSION
Each viral transcript usually encodes a single protein and has a promoter/regulatory sequence, a TATA box, a transcription initiation site, a 5' leader sequence of 30-300 bp (not translated), a 3' non-translated sequence of 10-30 bp, and a poly A signal.
There are three types of genes: immediate-early (?), early(?) and late (?). The ? genes are transcribed immediately after infection and ensure the transcription of ? genes, which encode the proteins necessary for the viral replication. The ? genes mostly encode structural proteins. Standing apart are genes expressed during latency.
ENZYMES
DNA-dependent DNA polymerase
DNA primase
Kinase
Helicase
Endonuclease
Ribonucleoside-diphosphate reductase
Thymidine kinase
Uracil-DNA glycosylase
REPLICATION
NUCLEAR
:
Attachment of the viral gB, gC, gD and gH proteins to host receptors mediates endocytosis of the virus into the host cell.
Fusion with the plasma membrane to release the core and the tegument proteins into the host cytoplasm.
The capsid is transported to the nuclear pore where viral DNA is released into the nucleus.
Transcription of immediate early genes which promote transcription of early genes and protect the virus against innate host immunity.
Transcription of early viral mRNA by host polymerase II, encoding proteins involved in replication of the viral DNA.
A first round of circular genome amplification occurs by bidirectional replication
Synthesis of linear concatemer copies of viral DNA by rolling circle.
Transcription of late mRNAs by host polymerase II, encoding structural proteins.
Assembly of the virus in nuclear viral factories and budding through the inner lamella of the nuclear membrane which has been modified by the insertion of herpes glycoproteins, throughout the Golgi and final release at the plasma membrane.
: replication of circular viral episome in tandem with the host cell DNA using the host cell replication machinery.