Inhibition of dsDNA sensors by viruses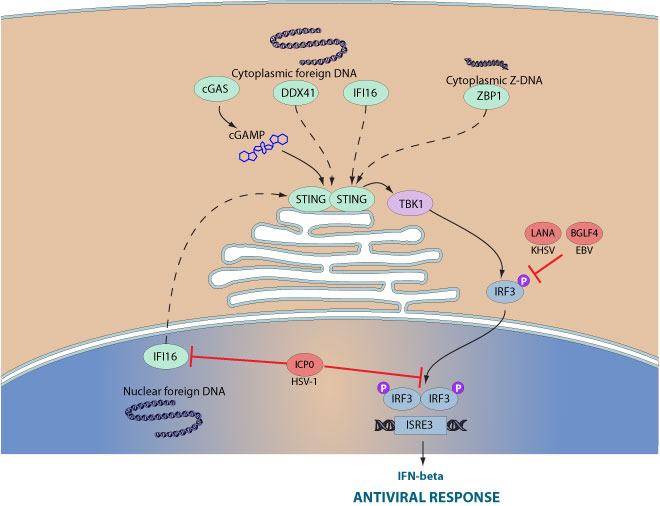 Detection of intracellular foreign DNA may be a key event in innate immune response. This process is mostly oriented toward response to bacterial infection, but several virus infection have been shown to trigger the innate immunity STING pathway.

Several receptors have been described to react to cytoplasmic DNA and activate Interferon response through STING activation: ZBP1

, DDX41

, IFI16

and cGAS

. IFI16 plays an essential antiviral role in nuclear viral DNA sensing. Herpesvirales do not expose their DNA in the cytoplasm, but still they induce IRF3-mediated antiviral response and this happens through IFI16

.The way IFI16 distinguishes self nuclear DNA and foreign is under investigation, but the signaling seems to rely on IFI16 assembled in filaments on viral dsDNA

.
Comments: STING pathway of interferon activation has been linked to RNA sensors RIG-like receptors, but it remains disputable. The link with dsDNA sensor is convincing, and this innate response seems to target both viruses and intracytoplasmic bacterias.
DAI (DLM-1/ZBP1) is a cytosolic DNA sensor and an activator of innate immune response
Akinori Takaoka, Zhichao Wang, Myoung Kwon Choi, Hideyuki Yanai, Hideo Negishi, Tatsuma Ban, Yan Lu, Makoto Miyagishi, Tatsuhiko Kodama, Kenya Honda, Yusuke Ohba, Tadatsugu Taniguchi
Nature July 26, 2007; 448: 501?505
The interferon response to intracellular DNA: Why so many receptors?
Leonie Unterholzner
Immunobiology July 29, 2013;
IFI16 is an innate immune sensor for intracellular DNA
Leonie Unterholzner, Sinead E Keating, Marcin Baran, Kristy A Horan, S?ren B Jensen, Shruti Sharma, Cherilyn M Sirois, Tengchuan Jin, Eicke Latz, T Sam Xiao, Katherine A Fitzgerald, S?ren R Paludan, Andrew G Bowie
Nat. Immunol. November 2010; 11: 997?1004
The helicase DDX41 senses intracellular DNA mediated by the adaptor STING in dendritic cells
Zhiqiang Zhang, Bin Yuan, Musheng Bao, Ning Lu, Taeil Kim, Yong-Jun Liu
Nat. Immunol. October 2011; 12: 959?965
Cyclic GMP-AMP synthase is a cytosolic DNA sensor that activates the type I interferon pathway
Lijun Sun, Jiaxi Wu, Fenghe Du, Xiang Chen, Zhijian J Chen
Science February 15, 2013; 339: 786?791
Nuclear IFI16 induction of IRF-3 signaling during herpesviral infection and degradation of IFI16 by the viral ICP0 protein
Megan H Orzalli, Neal A DeLuca, David M Knipe
Proc. Natl. Acad. Sci. U.S.A. October 30, 2012; 109: E3008?3017
Cooperative assembly of IFI16 filaments on dsDNA provides insights into host defense strategy
Seamus R Morrone, Tao Wang, Leeza M Constantoulakis, Richard M Hooy, Michael J Delannoy, Jungsan Sohn
Proc. Natl. Acad. Sci. U.S.A. January 7, 2014; 111: E62?71