Post-transcriptional editing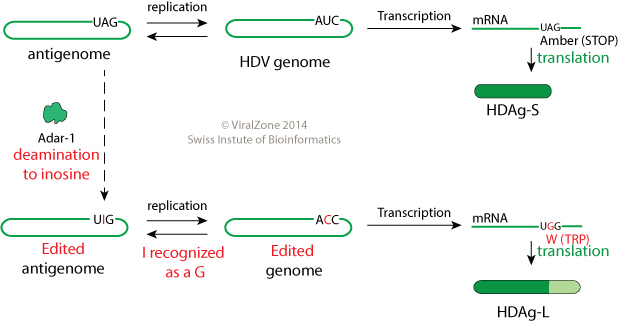 Related to:
Hepatitis delta
Location: Host cell nucleus.
Transcription events: The editing of HDV RNA consists of the replacement of one single nucleotide (A to I) that occurs post-transcriptionally on HDV antigenomic RNA


. This modification results in a transcriptional readthrough and production of the large delta antigen HDAg-L, since a tryptophan replaces an amber (STOP) codon in the sequence. Cellular double-stranded RNA adenosine deaminase 1 (ADAR1) carries out this change in the antigenomic RNA

, and it requires the secondary structure of HDV antigenome. The edited antigenomic RNA is not infectious.
RNA editing and its control in hepatitis delta virus replication
Renxiang Chen, Sarah D Linnstaedt, John L Casey
Viruses January 2010; 2: 131-146
Hepatitis D virus RNA editing: specific modification of adenosine in the antigenomic RNA
J L Casey, J L Gerin
J. Virol. December 1995; 69: 7593-7600
Control of ADAR1 editing of hepatitis delta virus RNAs
John L Casey
Curr. Top. Microbiol. Immunol. 2012; 353: 123-143
post-transcriptional editing
| | | | | | | | |
| --- | --- | --- | --- | --- | --- | --- | --- |
| Genus | Virus | Number of substitutions | Protein | % | Sequence | Position | Reference |
| Deltavirus | Hepatitis delta virus | 1 A to G | SHDAg / LHDAg | - | CCAU AGGAU | 1016-1006 (antigenomic) | |