RNA-mediated gene silencing (also known as RNA interference, RNAi) is a conserved sequence-specific gene regulation system, which has an essential role in the maintenance of cell genome integrity, and, in higher plants and insects, it also operates as an adaptive inducible antiviral defense mechanism. It consists in sequence-specific recognition and inhibition of target genes expression by endogenous (gene, development, stress response regulation) or virus-derived short silencing RNAs (sRNAs)

.
Target genes expression can be inhibited post-translationally (post-transcriptional gene silencing or PTGS): target dsRNAs are recognized by Dicer-like enzymes (DCL) and diced into small interfering RNAs duplexes (siRNA) of about 21- to 24-nt, which interact with Argonaute (AGO) proteins and associated proteins to form RNA-induced complexes (RISCs) to target homologous RNAs for destruction. PTGS can also be performed by endogenous microRNAs (miRNAs). miRNAs differ from siRNAs in that they are encoded by cellular genes and generally base pair imperfectly with homologous RNAs to target them for destruction or inhibit their translation.

Target genes expression can also be inhibited by heavy methylation of concerned DNA loci (transcriptional gene silencing or TGS).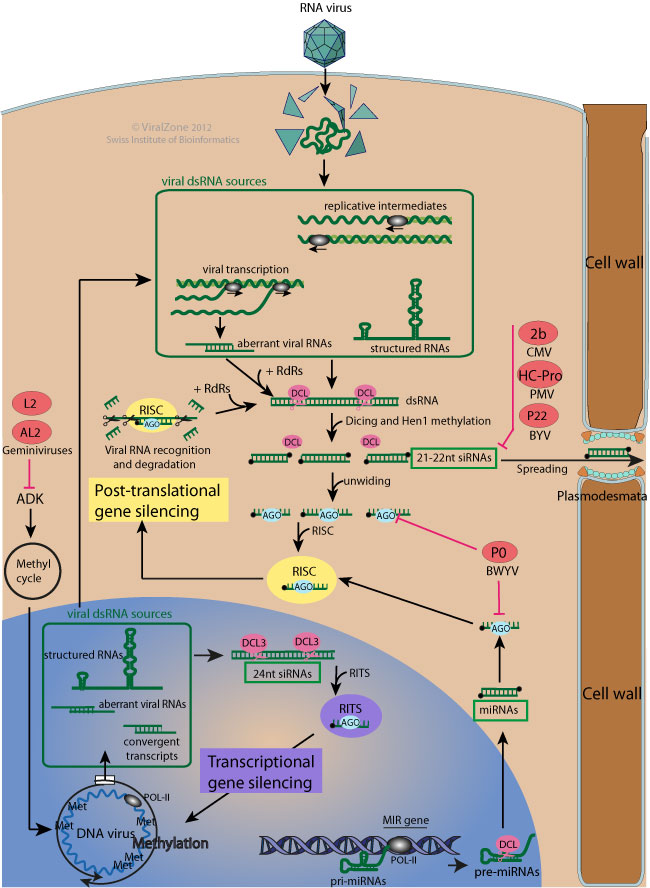 To counteract host RNAi antiviral defense, viruses from almost all plant virus genera (and also from some animal viruses) encode viral suppressors of RNA silencing (VSRs) which inhibit key steps of cellular RNAi system


. They are often multifunctional and play important roles in viral replication, coating, movement, and pathogenesis, in addition to suppressing host RNA silencing-based antiviral immunity.

VSRs suppress RNA silencing pathways mainly:
-through dsRNA binding. Sequestering siRNA duplexes prevents small RNA loading into the AGO effector proteins to assemble the RNA-induced silencing complex (RISC). Sequestering long dsRNA duplexes inhibits siRNA biogenesis.


-by interacting with and inhibiting components of the host RISC machinery.
-by inhibiting enzymes necessary for host cell-mediated DNA methylation.