The majority of cellular mRNAs initiate translation through the recruitment of a multisubunit translation initiation complex termed eIF4F, which consists of the cap-binding protein eIF4E, the RNA helicase eIF4A, and the adaptor protein eIF4G. eIF4G binds poly(A)-binding protein (PABP) to mediate 5' -> 3' communication, probably to promote efficient translation of intact correctly processed mRNAs. eIF4E binding protein 1 (eIF4E-BP1) functions as a translational repressor that limits eIF4E availability and therefore eIF4F complex formation.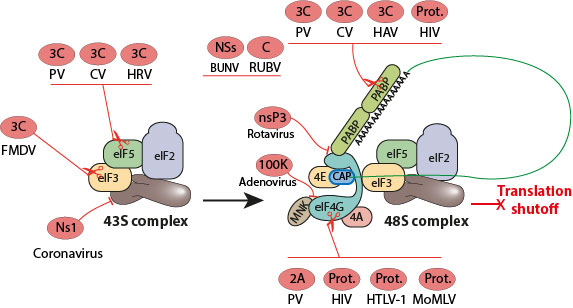 Viruses have evolved ways of interacting with the host translational machinery to
shutoff host gene expression
. This global inhibition of cellular protein synthesis serves to ensure maximal viral gene expression and to evade host immune response


.
All the viruses inducing the shutoff of translation are able to continue to translate at least part of their mRNAs using non-canonical translation:
IRES
,
Ribosome shunting
, or VPG initiation. For adenoviridae, polyomaviridae and togaviridae the cellular translation shutoff takes place at the late phase of infection and ensures an optimal production of viral structural proteins.
Under stress conditions such as viral infection some cellular translation can continue when the cap-dependent translation initiation is inhibited. Expression of specific cellular proteins seems to occur through cap-independent mechanisms


.
Viruses inducing host translation shutoff: