The restriction-modification (RM) system is a defense mechanism present in over 90% of sequenced bacterial and archeal genomes. Its consists of a modification enzyme that methylates a specific DNA sequence in a genome and a restriction endonuclease that cleaves DNA lacking this methylation

.
2001 Fred Griffith review lecture. Immigration control of DNA in bacteria: self versus non-self
Noreen E Murray
Microbiology (Reading, Engl.) January 2002; 148: 3?20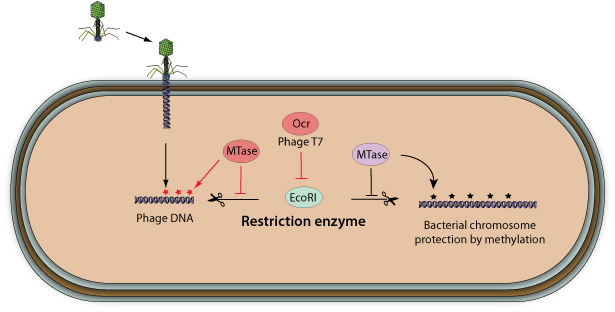 Bacterial viruses have evolved different strategies to evade the restriction-modification system


. Some viruses encode their own methyltransferase in order to protect their genome from host restriction enzymes

. Instead, bacteriophage T7 encodes the OCR protein that blocks the active site of several restriction enzymes by mimicking the phosphate backbone of B-form DNA. Other bacterial viruses use unusual bases on their genome to avoid restriction. Bacteriophages SPO1, SP82, and 2C replace thymidine with 5-hydroxymethyluracil while phages PBS1 and PBS2 thymine is completely changed to uracil.