HIV-1 Nucleoprotein (NC)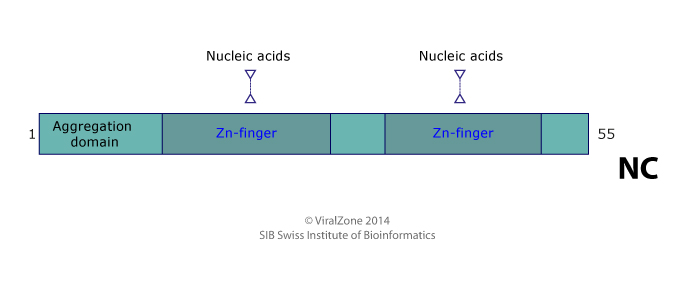 FUNCTION
Nucleic acid condensing and chaperoning protein that binds to the virion genomic RNA (gRNA) and facilitates structural rearrangements of the genomic RNA in the course of replication by the viral reverse transcriptase. Also plays a role in template switch leading to recombination .
As part of the Gag polyprotein, participates to gRNA dimerization, packaging, tRNA incorporation and virion assembly. Enhances various steps in reverse transcription including tRNA annealing and strand transfer .May also contribute to the initial binding of the bent form of Gag to the plasma membrane .
INTERACTIONS
Possibly interacts with reverse transcriptase .
As part of the Gag polyprotein, recognizes the dimerization (DIS) and packaging (Psi) sequences and allows dimerization and packaging of the genomic RNA. Also binds the Bro1 domain of Alix, STAU1, ABCE1, DHX9, EAP30 and plays an role in virion assembly .
SUBCELLULAR LOCATION
Host nucleus (covers DNA flaps)
TIMING OF EXPRESSION