VIRION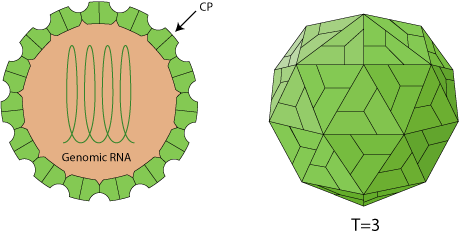 Non-enveloped, probably T=3 icosahedral particles .
GENOME
Monopartite, linear, ssRNA(+) genome of 4652 bp. The 3' terminus has neither a polyA tract nor a tRNA-like structure. The 5' terminus probably has a genome-linked protein (VPg).
GENE EXPRESSION
There are a total of four potential ORFs.
ENZYMES
REPLICATION
CYTOPLASMIC
Virus penetrates into the host cell.
Uncoating, and release of the viral genomic RNA into the cytoplasm.
The viral RNA ORF2 and ORF3 are translated to produce the RdRp fusion protein and the VPg protein.
Replication takes place in cytoplasmic viral factories. A dsRNA genome is synthesized from the genomic ssRNA(+).
The dsRNA genome is transcribed/replicated thereby providing viral mRNAs/new ssRNA(+) genomes.
Expression of the subgenomic RNAs (sgRNAs) yields the capsid.
Capsid assembly and formation of new virus particles.