Antiviral drugs

There is no globally recognised antiviral drug for treatment, but many are under investigation. Antiviral drugs are difficult to find because of the diversity and cell-parasitic nature of viruses. It has taken a long time to get effective drugs for HIV or Hepatitis C. The first drugs tested are all repurposed drugs that did not show efficacy in clinical trials.
The main targets are the specific viral enzymes: RNA-dependent RNA polymerase and the two proteases.

External resource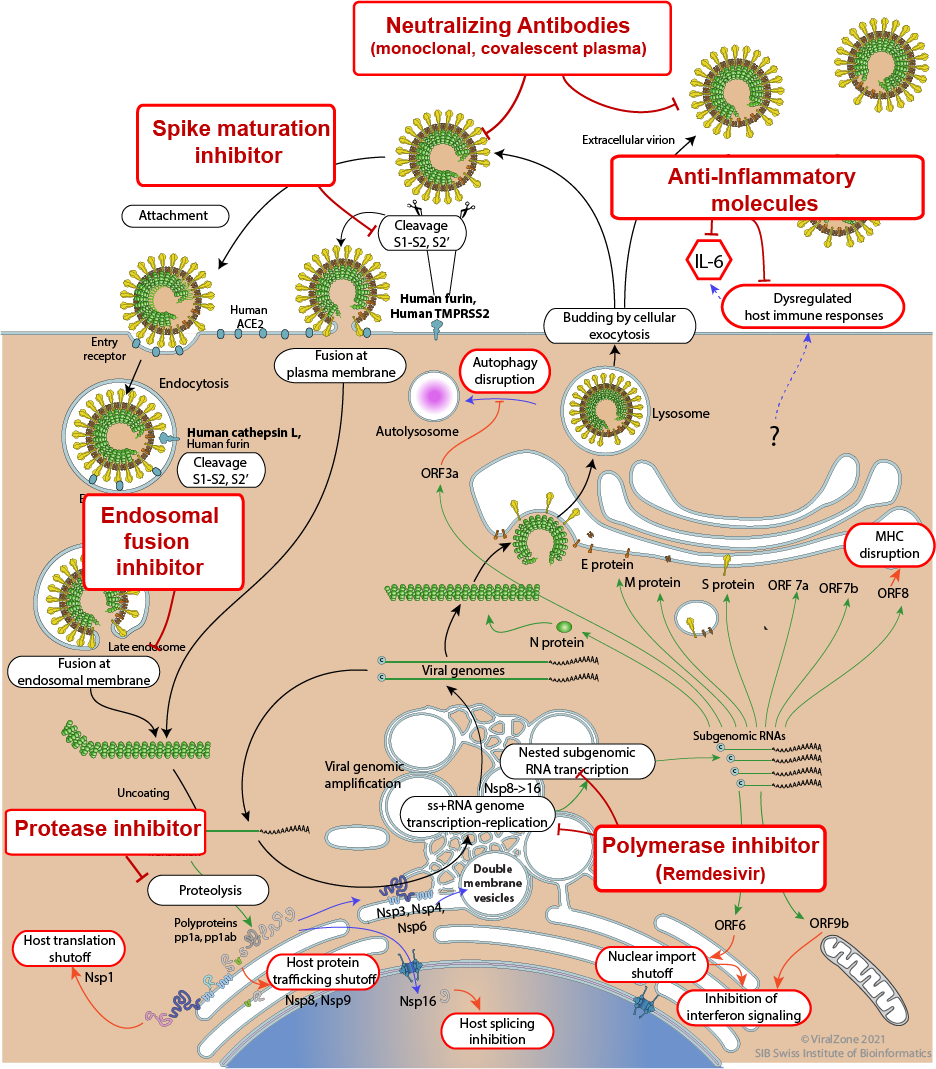 ANTIVIRAL DRUGS This table displays the main drugs investigated
Class
Compound
Ref
Status for Covid-19
Notes
Spike maturation inhibitor
Camostat
TMPRSS2 inhibitor that may prevent Spike cleavage and activation. Spike could still be activated by cathepsin or furin
Endosome fusion inhibitor
Hydroxychloroquine
No-benefit in clinical trials
Non-specific anti-malaria drug. May prevent virus entry by modifying endosomal pH.
Umifenovir/Arbidol
No-benefit in clinical trials
Anti influenza drug
Protease inhibitor
Ritonavir , Lopinavir
No-benefit in clinical trials
Molecules targeting HIV protease which is a ASP protease, but SARS-Cov proteases are THIOL proteases.
Darunavir
No evidence of SARS-CoV-2 inactivation
Viral polymerase inhibitor
Remdesivir
Weakly effective in clinical trials
Molecule under investigation against MERS and SARS coronaviruses.
Favipiravir
No evidence of SARS-CoV-2 inactivation
Drug developed against influenza, redirected against ebola and now SARS-CoV-2
Camostat mesilate therapy for COVID-19. Uno Y. Intern Emerg Med. 2020 Apr 29.
The spike glycoprotein of the new coronavirus 2019-nCoV contains a furin-like cleavage site absent in CoV of the same clade.
Coutard B, Valle C, de Lamballerie X, Canard B, Seidah NG, Decroly E.
Antiviral Res. 2020 Apr;176:104742
An exploratory randomized controlled study on the efficacy and safety of lopinavir/ritonavir or arbidol treating adult patients hospitalized with mild/moderate COVID-19 (ELACOI) Yueping Li, Zhiwei Xie, Weiyin Lin, Weiping Cai, Chunyan Wen, Yujuan Guan, Xiaoneng Mo, Jian Wang, Yaping Wang, Ping Peng, Xudan Chen, Wenxin Hong, Guangming Xiao, Jinxin Liu, Lieguang Zhang, Fengyu Hu, Feng Li, Feng Li, Fuchun Zhang, Xilong Deng, Linghua Li medXriv
Hydroxychloroquine in the treatment and prophylaxis of SARS-CoV-2 infection in non-human primates Pauline Maisonnasse, J?r?mie Guedj, Vanessa Contreras, Sylvie Behillil, Caroline Solas, Romain Marlin, Thibaut Naninck, Andres Pizzorno, Julien Lemaitre, Antonio Gon?alves, Nidhal Kahlaoui, Olivier Terrier, Raphael Ho Tsong Fan, Vincent Enouf, Nathalie Dereuddre- Bosquet, Angela Brisebarre, Franck Toure, Catherine Chapon, Bruno Hoen, Bruno Lina, Manuel Rosa Calatrava, Sylvie van der Werf, Xavier de Lamballerie, Roger Le Grand Preprint, nature
A Trial of Lopinavir-Ritonavir in Adults Hospitalized with Severe Covid-19. Cao B, Wang Y, Wen D, Liu W, Wang J, Fan G, Ruan L, Song B, Cai Y, Wei M, Li X, Xia J, Chen N, Xiang J, Yu T, Bai T, Xie X, Zhang L, Li C, Yuan Y, Chen H, Li H, Huang H, Tu S, Gong F, Liu Y, Wei Y, Dong C, Zhou F, Gu X, Xu J, Liu Z, Zhang Y, Li H, Shang L, Wang K, Li K, Zhou X, Dong X, Qu Z, Lu S, Hu X, Ruan S, Luo S, Wu J, Peng L, Cheng F, Pan L, Zou J, Jia C, Wang J, Liu X, Wang S, Wu X, Ge Q, He J, Zhan H, Qiu F, Guo L, Huang C, Jaki T, Hayden FG, Horby PW, Zhang D, Wang C. N Engl J Med. 2020 May 7;382(19):1787-1799.
NIH clinical trial shows Remdesivir accelerates recovery from advanced COVID-19 Preliminary results
Remdesivir in adults with severe COVID-19: a randomised, double-blind, placebo-controlled, multicentre trial Yeming Wang, MD ? Dingyu Zhang, MD ? Prof Guanhua Du, PhD ? Prof Ronghui Du, MD ? Prof Jianping Zhao, MD ? Prof Yang Jin, MD ? Prof Shouzhi Fu, MD ? Prof Ling Gao, MD ? Prof Zhenshun Cheng, MD ? Prof Qiaofa Lu, MD ? Prof Yi Hu, MD ? Prof Guangwei Luo, MD ? Prof Ke Wang, PhD Prof Yang Lu, PhD Huadong Li, MD Shuzhen Wang, MS Shunan Ruan, MS Chengqing Yang, MD Chunlin Mei, MD Yi Wang, MD Dan Ding, MD Feng Wu, MD Xin Tang, MD Xianzhi Ye, MD Yingchun Ye, MD Bing Liu, MD Jie Yang, MD Wen Yin, MD Aili Wang, MD Guohui Fan, MS Fei Zhou, MD Zhibo Liu, MD Xiaoying Gu, PhD Jiuyang Xu, MD Lianhan Shang, MD Yi Zhang, MD Lianjun Cao, BD Tingting Guo, BD Yan Wan, BD Hong Qin, PhD Yushen Jiang, PhD Prof Thomas Jaki, PhD Prof Frederick G Hayden, MD Prof Peter W Horby, MD Prof Bin Cao, MD Prof Chen Wang, MD Lancet, April 29, 2020
Remdesivir for the Treatment of Covid-19 - Preliminary Report Beigel JH, Tomashek KM, Dodd LE, et al. N Engl J Med. 2020