COVID-19 and treatment
COVID-19 disease is characterized by a several stages. The first stage corresponds to the viral infection with symptoms typical of respiratory virus infection and immune inhibition. The infection can lead to complications (stage II) with respiratory problems. At this stage the virus replication is already low. Complications can worsen to stage III with Acute Respiratory Distress Syndrome (ARDS), SIRS/shock and cardiac failure. The figure below explains the time course of COVID-19. All numbers correspond to average days after/before symptom onset, these numbers can vary for each individual. Virus shedding would happen on average between 2 days before symptoms

, up to 8 days after symptoms. Residual virus material can be detected after, but not infectious virus

. Virus shedding is extended and peaks during the second week for patients with pneumonia or further complications and can last up to 21 days. Most people will suffer mild to heavy symptoms during stage I, and no complications. Severe COVID is characterized by hyper-inflammatory response, with observed increase of IL6 and subsequent damages to lungs and cardiovascular system

. Moreover, viral infection starts milder but last longer

. Blood-clotting is not rare and may contribute to the severity of complications.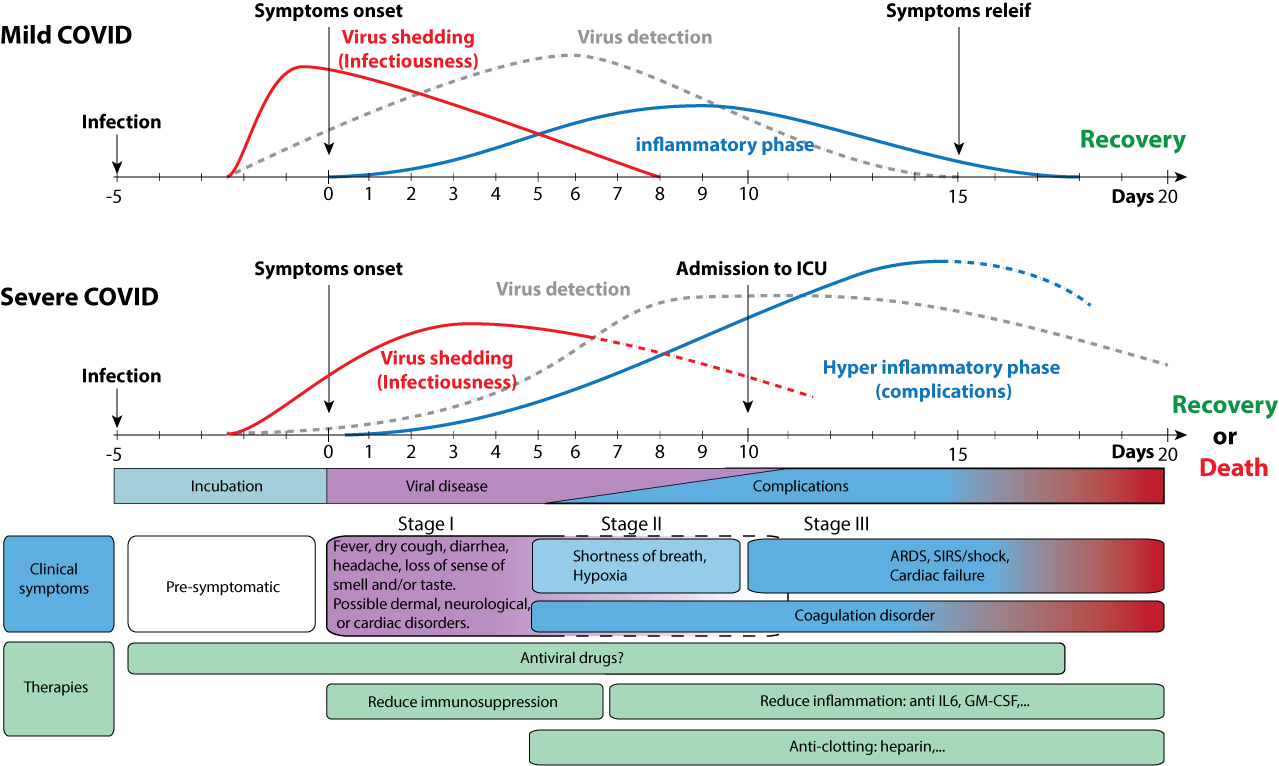 Treatments:
Viral stage
Antiviral drugs are under investigation, none has been proven to be efficient so far. Remdensivir may be the best candidate. Note that antiviral drugs must be applied early in the disease to be effective.
Inflammation stage
Antibodies agains IL6 are potent in reducing inflammation in late stages

: Tocilizumab


, Sarilumab, Siltuximab , ...
Anti-coagulants seems effective in preventing blood-clotting: Heparin

Comparison with SARS-2003
There are major differences between SARS-CoV-2 and SARS-CoV 2003 time course. The most important is that SARS 2003 viral shedding starts three to four days after symptom onset


, whereas in COVID-19 people can propagate the virus two days before symptom onset

. Of note, SARS-CoV-2 replicates more efficiently at temperatures encountered in the upper respiratory tract than SARS 2003

The early spreading of SARS-CoV-2 contributed to the failure of control measures taken to prevent the pandemic. Isolating symptomatic patients and their relative had proven effective for SARS-2003, but SARS-CoV-2 patients spread the virus much earlier.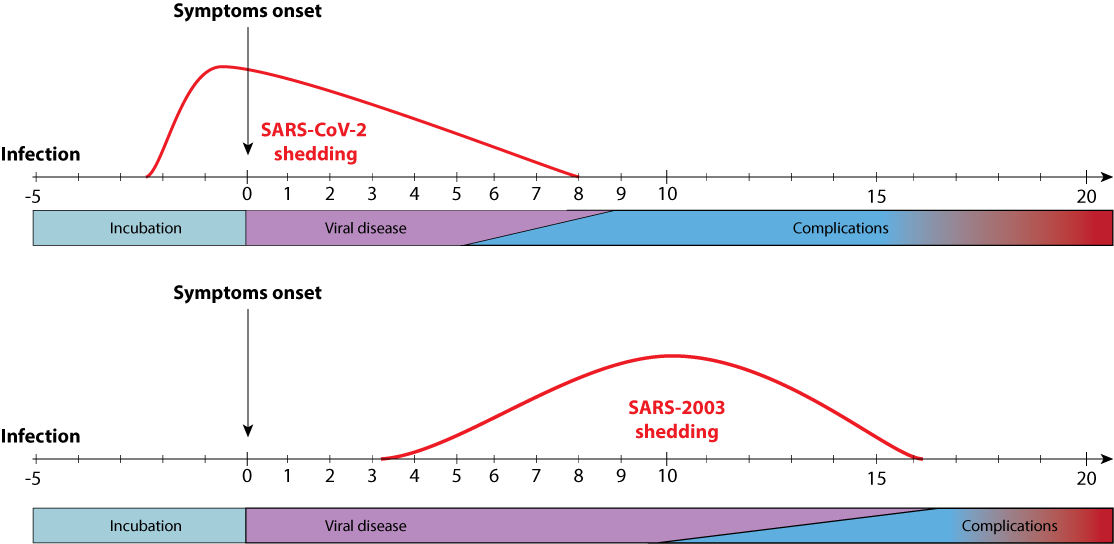 Disparate temperature-dependent virus-host dynamics for SARS-CoV-2 and SARS-CoV in the human respiratory epithelium Philip V?kovski, Mitra Gultom, Silvio Steiner, Jenna Kelly, Julie Russeil, Bastien Mangeat, Elisa Cora, Joern Pezoldt, Melle Holwerda, Annika Kratzel, Laura Laloli, Manon Wider, Jasmine Portmann, Thao Tran, Nadine Ebert, Hanspeter Stalder, Rune Hartmann, Vincent Gardeux, Daniel Alpern, Bart Deplancke, Volker Thiel, Ronald Dijkman BioRxiv
Estimating variability in the transmission of severe acute respiratory syndrome to household contacts in Hong Kong, China. Pitzer VE, Leung GM, Lipsitch M. Am J Epidemiol. 2007 Aug 1;166(3):355-63
Immunology of COVID-19: current state of the science. Vabret, N., Britton, G.J., Gruber, C., Hegde, S., Kim, J., Kuksin, M., Levantovsky, R., Malle, L., Moreira, A., Park, M.D., Pia, L., Risson, E., Saffern, M., Salom?, B., Selvan, M.E., Spindler, M.P., Tan, J., van der Heide, V., Gregory, J.K, Alexandropoulos, K., Bhardwaj, N., Brown, B.D., Greenbaum, B., G?m??, Z.H, Homann, D., Horowitz, A., Kamphorst, A.O, Curotto de Lafaille, M.A., Mehandru, S., Merad, M., Samstein, R.M, The Sinai Immunology Review Project, Immunity (2020)
Clinical progression and viral load in a community outbreak of coronavirus-associated SARS pneumonia: a prospective study. Peiris JS, Chu CM, Cheng VC, Chan KS, Hung IF, Poon LL, Law KI, Tang BS, Hon TY, Chan CS, Chan KH, Ng JS, Zheng BJ, Ng WL, Lai RW, Guan Y, Yuen KY; HKU/UCH SARS Study Group. Lancet. 2003 May 24;361(9371):1767-72.
Elevated Interleukin-6 and Severe COVID-19: A Meta-Analysis. Aziz M, Fatima R, Assaly R. J Med Virol. 2020 Apr 28
Tocilizumab, an anti-IL6 receptor antibody, to treat Covid-19-related respiratory failure: a case report. Michot JM, Albiges L, Chaput N, Saada V, Pommeret F, Griscelli F, Balleyguier C, Besse B, Marabelle A, Netzer F, Merad M, Robert C, Barlesi F, Gachot B, Stoclin A. Ann Oncol. 2020 Apr 2
Temporal dynamics in viral shedding and transmissibility of COVID-19. He X, Lau EHY, Wu P, Deng X, Wang J, Hao X, Lau YC, Wong JY, Guan Y, Tan X, Mo X, Chen Y, Liao B, Chen W, Hu F, Zhang Q, Zhong M, Wu Y, Zhao L, Zhang F, Cowling BJ, Li F, Leung GM. Nat Med. 2020 Apr 15.
Virological assessment of hospitalized patients with COVID-2019. W?lfel R, Corman VM, Guggemos W, S eilmaier M, Zange S, M?ller MA, Niemeyer D, Jones TC, Vollmar P, Rothe C, Hoelscher M, Bleicker T, Br?nink S, Schneider J, Ehmann R, Zwirglmaier K, Drosten C, Wendtner C. Nature. 2020 Apr 1.
Coronavirus blood-clot mystery intensifies: Research begins to pick apart the mechanisms behind a deadly COVID-19 complication. Cassandra Willyard Nature NEWS 08 May 2020
Viral dynamics in mild and severe cases of COVID-19. Liu Y, Yan LM, Wan L, Xiang TX, Le A, Liu JM, Peiris M, Poon LLM, Zhang W. Lancet Infect Dis. 2020 Mar 19.