Many enveloped viruses recruit components of the cellular ESCRT (endosomal sorting complex required for transport) system to mediate host-assisted viral budding


.



ESCRT complexes are normally used by the cell for biological functions involving membrane remodeling, such as intraluminal vesicle formation, autophagy or terminal stages of cytokinesis

. The ESCRT family consists of ESCRT-0, ESCRT-I, ESCRT-II which are primarily involved in cargo sorting and membrane deformation, and ESCRT-III which cleaves the bud neck from its cytosolic face

. In the last step, vps4 disassembles the complex. The budding reaction catalyzed by the ESCRT machinery has reversed topology when compared with most other budding processes in the cell, such as endocytosis and formation of transport vesicles.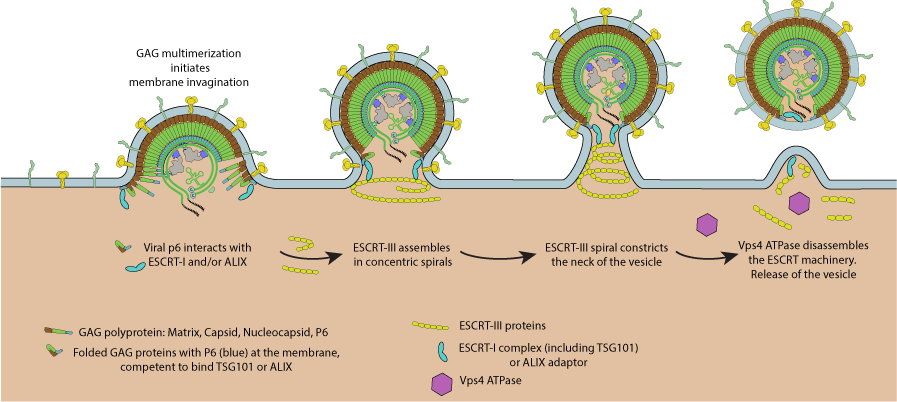 Specific motifs in viral proteins called late assembly domains (L-domains) are responsible for recruiting the host ESCRT machinery directly or via ESCRT-associated proteins like ALIX.
- P(T/S)AP motif recruits the ESCRT machinery via TSG101.
- PPxY motif enlists members of the NEDD4 family of ubiquitin ligases through interactions with WW domains, although the precise link between the NEDD4-like proteins and the ESCRT machinery is still unknown.
- ΘPxV where Θ is a hydrophobic amino acid. - YP(x)n L binds the adaptor protein ALIX, which in turn binds and recruits the ESCRT machinery.
Some enveloped viruses however seem to use other mechanisms to bud, as it has been shown for Influenza virus

.

Viruses budding through the ESCRT machinery: