VIRION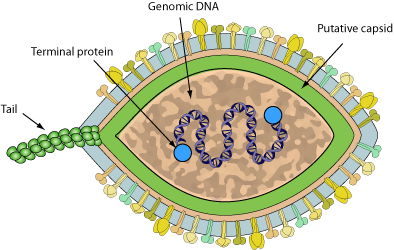 Enveloped, lemon-shaped, flexible with short tail-like fibers attached to one pole that extend through the envelope.
GENOME
Linear dsDNA genome of 14,5 kb, encoding for 35 ORF and with inverted repeat sequences (ITRs) at its termini. The genome also probably possess terminal-bound proteins, which may be used as replication primers.
GENE EXPRESSION
Genome is probably transcribed by host RNA polymerase.
REPLICATION
CYTOPLASMIC
Virus attaches to host cell, and genomic DNA penetrates into the cytoplasm.
Transcription of viral genes, possibly by a host RNA polymerase.
Genome replication, presumably by the viral DNA polymerase, which would use the terminal proteins as primer for DNA replication.
Assembly and release of virions.