Leaky scanning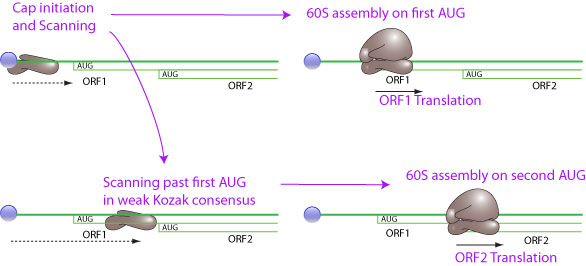 Leaky scanning is a phenomenon in which a weak initiation codon triplet on the mRNA is sometimes skipped by the ribosome during translation initiation. The ribosomal subunit 40S continues scanning to another initiation codon. The weak initiation codon can be an ACG or an ATG in a weak Kozak consensus context. In this way, one mRNA can code for several different proteins if the AUG are not in frame, or for proteins with different N-termini if the AUG are in the same frame.
Upstream ORFs (
uORF
) are small coding regions preceding an ORF, The latter must be translated by leaky scanning or
termination-reinitiation
. Many eukaryotic genes encode for uORF to downregulate the translation/mRNA ratio of a gene. These genes are described in the
uORF database

The leaky scanning is favored in case of cellular stress in which EIF2alpha is phosphorylated

, like in case of
dsRNA/PKR activation
. Many eukaryotic stress response genes are under the transcription control of a uORF. Viruses may use this regulatory system for their own purpose.

Unanticipated antigens: translation initiation at CUG with leucine
Susan R. Schwab, Jessica A. Shugart, Tiffany Horng, Subramaniam Malarkannan, Nilabh Shastri
PLoS Biol. November 2004; 2: e366
uORFdb--a comprehensive literature database on eukaryotic uORF biology
Klaus Wethmar, Adriano Barbosa-Silva, Miguel A Andrade-Navarro, Achim Leutz
Nucleic Acids Res. October 24, 2013;
Eukaryotic initiation factor 2 phosphorylation and translational control in metabolism
Thomas D Baird, Ronald C Wek
Adv Nutr May 2012; 3: 307?321
Family
Host
Genus
Virus
Products
RefSeq
Ref.
Bunyaviridae
Orthobunyavirus
Bunyamwera virus
NS/NSs
NC_001927

Bunyavirus nucleoprotein, N, and a non-structural protein, NSS, are coded by overlapping reading frames in the S RNA
F Fuller, A S Bhown, D H Bishop
J. Gen. Virol. August 1983; 64 (Pt 8): 1705?1714

Hantavirus
Andes virus
NS/NSs
NC_003466

The Andes hantavirus NSs protein is expressed from the viral small mRNA by a leaky scanning mechanism
Jorge Vera-Otarola, Loretto Solis, Ricardo Soto-Rifo, Emiliano P Ricci, Karla Pino, Nicole D Tischler, Th?ophile Ohlmann, Jean-Luc Darlix, Marcelo L?pez-Lastra
J. Virol. February 2012; 86: 2176?2187

Phlebovirus
Rift valley fever virus
NSm-Gn, NSm, NSm'
NC_014396

The Rift Valley fever accessory proteins NSm and P78/NSm-GN are distinct determinants of virus propagation in vertebrate and invertebrate hosts
Felix Kreher, Carole Tamietti, C?line Gommet, Laurent Guillemot, Myriam Ermonval, Anna-Bella Failloux, Jean-Jacques Panthier, Mich?le Bouloy, Marie Flamand
Emerg Microbes Infect October 2014; 3: e71

Caliciviridae
Norovirus
Murine norovirus
ORF4/CP
NC_008311

Norovirus regulation of the innate immune response and apoptosis occurs via the product of the alternative open reading frame 4
Nora McFadden, Dalan Bailey, Guia Carrara, Alicia Benson, Yasmin Chaudhry, Amita Shortland, Jonathan Heeney, Felix Yarovinsky, Peter Simmonds, Andrew Macdonald, Ian Goodfellow
PLoS Pathog. December 2011; 7: e1002413

Hepadnaviridae
Orthohepadnavirus
Hepatitis B virus
HBeAg/C/P
NC_003977

Translation of the first upstream ORF in the hepatitis B virus pregenomic RNA modulates translation at the core and polymerase initiation codons
Augustine Chen, Y F Kao, Chris M Brown
Nucleic Acids Res. 2005; 33: 1169?1181

M/S?
NC_003977
Hepeviridae
Hepevirus
Hepatitis E virus
ORF3/CP
NC_001434

The open reading frame 3 gene of hepatitis E virus contains a cis-reactive element and encodes a protein required for infection of macaques
Judith Graff, Hanh Nguyen, Claro Yu, William R Elkins, Marisa St Claire, Robert H Purcell, Suzanne U Emerson
J. Virol. June 2005; 79: 6680?6689

Herpesviridae
Simplexvirus
Human herpesvirus 1
uORF/UL30
NC_001806

Translational regulation of herpes simplex virus DNA polymerase
D R Yager, A I Marcy, D M Coen
J. Virol. May 1990; 64: 2217?2225

Cytomegalovirus
Human cytomegalovirus
uORF2/gp74
NC_006273

Translational inhibition by a human cytomegalovirus upstream open reading frame despite inefficient utilization of its AUG codon
J Cao, A P Geballe
J. Virol. February 1995; 69: 1030?1036

Rhadinovirus
Kaposi's sarcoma-associated herpesvirus
uORF1+ORF35/uORF28+ORF36
NC_009333

Dual short upstream open reading frames control translation of a herpesviral polycistronic mRNA
Lisa M Kronstad, Kevin F Brulois, Jae U Jung, Britt A Glaunsinger
PLoS Pathog. January 2013; 9: e1003156

Orthomyxoviridae
Influenza virus A
A/Puerto Rico/8/34
PB1/PN1-F2/N40
NC_002021

A novel influenza A virus mitochondrial protein that induces cell death
W Chen, P A Calvo, D Malide, J Gibbs, U Schubert, I Bacik, S Basta, R O?Neill, J Schickli, P Palese, P Henklein, J R Bennink, J W Yewdell
Nat. Med. December 2001; 7: 1306?1312

A complicated message: Identification of a novel PB1-related protein translated from influenza A virus segment 2 mRNA
Helen M Wise, Agnes Foeglein, Jiechao Sun, Rosa Maria Dalton, Sheetal Patel, Wendy Howard, Emma C Anderson, Wendy S Barclay, Paul Digard
J. Virol. August 2009; 83: 8021?8031

Influenza virus B
B/Lee/1940
NB/NA
NC_002209

Effect of mutations and deletions in a bicistronic mRNA on the synthesis of influenza B virus NB and NA glycoproteins
M A Williams, R A Lamb
J. Virol. January 1989; 63: 28?35

Papillomaviridae
Alphapapillomavirus
HPV16
E6/E7
NC_001526

Leaky scanning is the predominant mechanism for translation of human papillomavirus type 16 E7 oncoprotein from E6/E7 bicistronic mRNA
S N Stacey, D Jordan, A J Williamson, M Brown, J H Coote, J R Arrand
J. Virol. August 2000; 74: 7284?7297

Polyomaviridae
Polyomavirus
SV40
Agno/VP2/VP3?
NC_001669
Paramyxoviridae
Aquaparamyxovirus
Sendai virus
P/C
EU156171
Respirovirus
Sendai virus
C'/P/C/Y1/Y2
NC_001552

Sendai virus contains overlapping genes expressed from a single mRNA
C Giorgi, B M Blumberg, D Kolakofsky
Cell December 1983; 35: 829?836

Morbilivirus
Measles virus
P/C
NC_001498

Measles virus P gene codes for two proteins
W J Bellini, G Englund, S Rozenblatt, H Arnheiter, C D Richardson
J. Virol. March 1985; 53: 908?919

Henipavirus
Hendra virus
P/C
NC_001906

Determination of the henipavirus phosphoprotein gene mRNA editing frequencies and detection of the C, V and W proteins of Nipah virus in virus-infected cells
Michael K Lo, Brian H Harcourt, Bruce A Mungall, Azaibi Tamin, Mark E Peeples, William J Bellini, Paul A Rota
J. Gen. Virol. February 2009; 90: 398?404

Reoviridae
Rotavirus
Rotavirus A
VP7.1/VP7.2,
NC_011503
NSP5/NSP6
NC_011505

Expression of rotavirus proteins encoded by alternative open reading frames of genome segment 11
N M Mattion, D B Mitchell, G W Both, M K Estes
Virology March 1991; 181: 295?304

Orbivirus
Bluetongue virus
Vp6a, NS4
NC_006008

Detection of a fourth orbivirus non-structural protein
Mourad Belhouchet, Fauziah Mohd Jaafar, Andrew E. Firth, Jonathan M. Grimes, Peter P. C. Mertens, Houssam Attoui
PLoS ONE 2011; 6: e25697

NS3a
NC_006015
Orthoreovirus
Mammalian orthoreovirus
Sigma1/sigma1s
NC_004277

Reovirus hemagglutinin mRNA codes for two polypeptides in overlapping reading frames
H Ernst, A J Shatkin
Proc. Natl. Acad. Sci. U.S.A. January 1985; 82: 48?52

MuNS/MuNSC
NC_004281

Avian and mammalian reoviruses use different molecular mechanisms to synthesize their {micro}NS isoforms
Lisa K Busch, Javier Rodr?guez-Grille, J Ignacio Casal, Jos? Mart?nez-Costas, Javier Benavente
J. Gen. Virol. November 2011; 92: 2566?2574

Coronaviridae
Betacoronavirus
Bovine coronavirus
N/I
NC_003045

The nucleocapsid protein gene of bovine coronavirus is bicistronic
S D Senanayake, M A Hofmann, J L Maki, D A Brian
J. Virol. September 1992; 66: 5277?5283

Arteriviridae
Arterivirus
Equine arteritis virus
E/GP2
NC_002532

Identification of a novel structural protein of arteriviruses
E J Snijder, H van Tol, K W Pedersen, M J Raamsman, A A de Vries
J. Virol. August 1999; 73: 6335?6345

ORF5a/GP5
NC_002532

Discovery of a small arterivirus gene that overlaps the GP5 coding sequence and is important for virus production
Andrew E Firth, Jessika C Zevenhoven-Dobbe, Norma M Wills, Yun Young Go, Udeni B R Balasuriya, John F Atkins, Eric J Snijder, Clara C Posthuma
J. Gen. Virol. May 2011; 92: 1097?1106

Alphatetraviridae
Omegatetravirus
Helicoverpa armigera stunt virus
P17/CP
NC_004060

Sequence of RNA2 of the Helicoverpa armigera stunt virus (Tetraviridae) and bacterial expression of its genes
T N Hanzlik, S J Dorrian, K N Johnson, E M Brooks, K H Gordon
J. Gen. Virol. April 1995; 76 ( Pt 4): 799?811

Baculoviridae
Alphabaculovirus
Autographa californica multiple nucleopolyhedrovirus
uORF/gp64
NC_004323

Baculovirus gp64 gene expression: negative regulation by a minicistron
M J Chang, G W Blissard
J. Virol. October 1997; 71: 7448?7460

Alphaflexviridae
Potexvirus
Potato virus X
TGB2/TGB3
NC_011620

In vivo translation of the triple gene block of potato virus X requires two subgenomic mRNAs
J Verchot, S M Angell, D C Baulcombe
J. Virol. October 1998; 72: 8316?8320

Caulimoviridae
Tungrovirus
Rice tungro bacilliform virus
ORF1/ORF2/ORF3
NC_001914

Rice tungro bacilliform virus open reading frames II and III are translated from polycistronic pregenomic RNA by leaky scanning
J F?tterer, H M Rothnie, T Hohn, I Potrykus
J. Virol. October 1997; 71: 7984?7989

Luteoviridae
Luteovirus
Barley yellow dwarf virus
P3a/CP/MP
NC_004750

Control of start codon choice on a plant viral RNA encoding overlapping genes
S P Dinesh-Kumar, W A Miller
Plant Cell June 1993; 5: 679?692

Discovery of a Small Non-AUG-Initiated ORF in Poleroviruses and Luteoviruses That Is Required for Long-Distance Movement
Ekaterina Smirnova, Andrew E. Firth, W. Allen Miller, Dani?le Scheidecker, V?ronique Brault, Catherine Reinbold, Aur?lie M. Rakotondrafara, Betty Y.-W. Chung, V?ronique Ziegler-Graff
PLoS Pathog. May 2015; 11: e1004868

Polerovirus
Potato leafroll virus
P0/P1
NC_001747

Nucleotide sequence of potato leafroll luteovirus RNA
M A Mayo, D J Robinson, C A Jolly, L Hyman
J. Gen. Virol. May 1989; 70 ( Pt 5): 1037?1051

P3a/CP/MP
NC_001747

Characterization of a potato leafroll luteovirus subgenomic RNA: differential expression by internal translation initiation and UAG suppression
E Tacke, D Pr?fer, F Salamini, W Rohde
J. Gen. Virol. October 1990; 71 ( Pt 10): 2265?2272

Discovery of a Small Non-AUG-Initiated ORF in Poleroviruses and Luteoviruses That Is Required for Long-Distance Movement
Ekaterina Smirnova, Andrew E. Firth, W. Allen Miller, Dani?le Scheidecker, V?ronique Brault, Catherine Reinbold, Aur?lie M. Rakotondrafara, Betty Y.-W. Chung, V?ronique Ziegler-Graff
PLoS Pathog. May 2015; 11: e1004868

Enamovirus
Pea enation mosaic virus
P0/P1
NC_003629
Tombusviridae
Aureusvirus
Pothos latent virus
MP/P14
NC_000939

Molecular analysis of the pothos latent virus genome
L Rubino, M Russo
J. Gen. Virol. June 1997; 78 ( Pt 6): 1219?1226

Machlomovirus
Maize chlorotic mottle virus
ORF1/ORF2
NC_003627
Unassigned
Sobemovirus
Southern bean mosaic virus
MP/X/ORF2A
NC_004060

An essential fifth coding ORF in the sobemoviruses
Roger Ling, Adrienne E Pate, John P Carr, Andrew E Firth
Virology November 2013; 446: 397?408

Tymoviridae
Tymovirus
Turnip yellow mosaic virus
MVP/ORF1
NC_004063

Infectious TYMV RNA from cloned cDNA: effects in vitro and in vivo of point substitutions in the initiation codons of two extensively overlapping ORFs
J J Weiland, T W Dreher
Nucleic Acids Res. June 26, 1989; 17: 4675?4687

Virgaviridae
Hordeivirus
Barley stripe mosaic virus
TGB2/TGB3
NC_003481

Expression of the barley stripe mosaic virus RNA beta ?triple gene block?
H Zhou, A O Jackson
Virology February 15, 1996; 216: 367?379

Pecluvirus
Peanut clump virus
CP/P39
NC_003668

Translation of the second gene of peanut clump virus RNA 2 occurs by leaky scanning in vitro
E Herzog, H Guilley, C Fritsch
Virology April 1, 1995; 208: 215?225

TGB2/TGB3