VIRION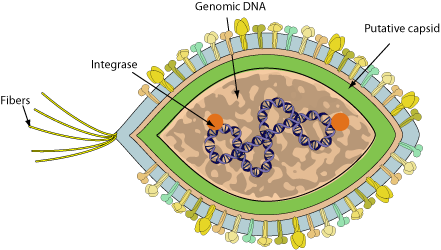 Enveloped, lemon-shaped (Alphafusellovirus) to pleomorphic (Betafusellovirus), with short tail fibers attached to one pole. The virion is about 60 nm in diameter and 100-250 nm in length.
GENOME
Circular, supercoiled dsDNA genome of 14.8 to 17.3kb, encodes for 31 to 37 genes.
GENE EXPRESSION
Genomic DNA is specifically integrated into a tRNA gene of the host chromosome.
REPLICATION
CYTOPLASMIC
Adsorption: the phage attaches to target cell
Injection: viral DNA is injected in host cell cytoplasm
Viral genome is integrated into a tRNA gene of host chromosome
Transcription and translation of early genes
Replication of genomic DNA
Transcription and translation of late genes
Genomic DNA is packaged in new virions
Mature virions are released from the cell by budding