VIRION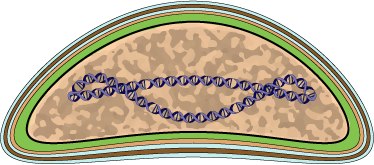 Virions consist of an envelope, a core, and an internal lipid membrane associated with the inner particle. Virion can be bacilliform, ovoidal or allantoid in shape, mesuring about 130 nm in diameter, by 200-400 nm in length. Contains at least 15 different proteins.
GENOME
Circular, dsDNA genome of 156-186 kb. The genome contains two tandem of inverted repeats.
GENE EXPRESSION
Encode for up to 180 open reading frames.
ENZYMES
REPLICATION
NUCLEUS
Attachment of the viral proteins to host receptors mediates endocytosis of the virus into the host cell.
Fusion with the plasma membrane occurs; and the viral DNA is released into the nucleus.
Transcription of viral genes, replication of the DNA genome in the nucleus.
Cell nucleus enlarges and ruptures.
Host cell is cleaved in cluster of virion-containing vesicles.