VIRION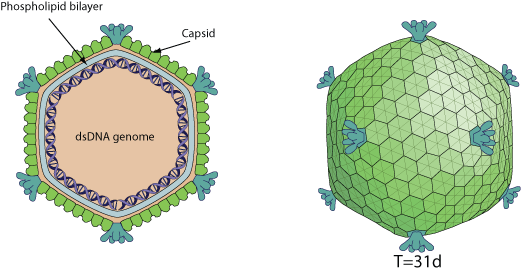 Icosahedral T=31d capsid, 74 nm in diameter, composed of 1200 P1 (spike) and 60 P2 (capsid) proteins. The 12 five-fold vertices have turret-like appendages expanding 13nm above the capsid shell. The capsid encloses an internal lipid membrane.
GENOME
Linear dsDNA genome of 17 kb.
GENE EXPRESSION
The genome encodes 36 ORFs.
REPLICATION
CYTOPLASMIC
Adsorption: the virus attaches to target cell
Injection: viral DNA is injected in host cell cytoplasm
Transcription and translation of early genes
Replication of genomic DNA
Transcription and translation of late genes
Genomic DNA is packaged in new virions
Mature virions are released from the cell by budding through pyramid-like protrusions.