VIRION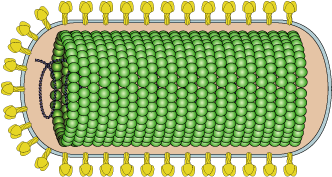 Rod-shaped, enveloped virion up to 400x80nm
GENOME
Circular, dsDNA genome of 228-232 kb.
GENE EXPRESSION
Encode for 113 predicted open reading frames.
REPLICATION
NUCLEUS
Virus attaches to host receptors, and is internalized by pinocytosis.
Fusion of virus membrane with the vesicle membrane occurs; DNA genome is released into the nucleus.
Transcription of viral genes, replication of the DNA genome in the nucleus.
Cell nucleus enlarges and ruptures.
Assembly of new virions in the cytoplasm.
Virions bud from the cell membrane.