VIRION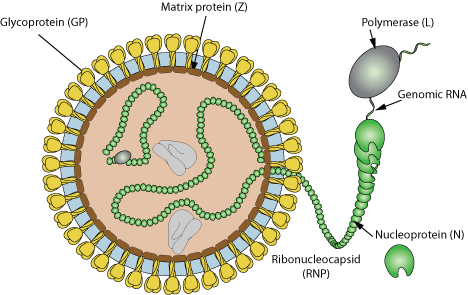 Enveloped, spherical. Diameter from 60 to 300 nm.
GENOME
Segmented Negative-stranded RNA linear genome, L segment is about 7,5 kb and S segment 3,5 kb.
Encodes for four proteins.
GENE EXPRESSION
Both segments are ambisens. The viral RNA dependent RNA polymerase (L) binds to a promoter on each encapsidated segment, and transcribes a messager RNA. Transcription is terminated by a strong hairpin sequence at the end of each gene. mRNAs are capped, probably by L protein during synthesis.
ENZYMES
REPLICATION
CYTOPLASM