VIRION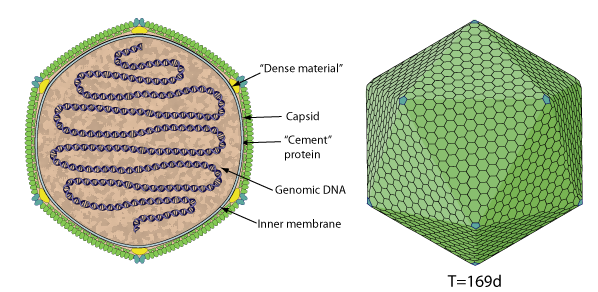 Enveloped virion of which the membrane is surrounded by a capsid with an icosahedral symmetry (T=169), 100-220 nm in diameter. Dense material are present at each 5-fold symmetry vertex
Source: Van Etten 2003 (Pubmed)
GENOME
Linear, dsDNA genome of about 330 kb with crosslinked hairpin ends. PBCV-1 genome encode for approximately 700 ORFs.
GENE EXPRESSION
ENZYMES
DNA-directed DNA polymerase
Ribonucleoside-diphosphate reductase
REPLICATION
NUCLEO-CYTOPLASMIC
Virus attaches to host receptors , inducing release of viral genome into the cell.
Migration of the DNA core to the nucleus?
Synthesis of early proteins.
Replication of genomic DNA..
Late proteins synthesis, assembly of new virions in the cytoplasm
Cell lysis and virion release in the extracellular space.