VIRION
Capsidless: Viroids do not code for proteins and therefore cannot build a virion structure.
GENOME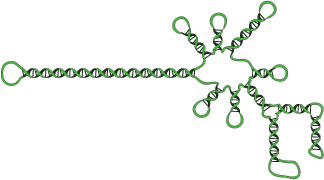 Circular, ssRNA genome of 246-375 bases. Most of the genome displays complementary strands. Replication occurs by symmetric rolling circle. This family is distinguished by the ability to self-cleave through hammerhead structures.
REPLICATION
CHLOROPLAST
Viroid infects cell presumably through cell-to-cell transport and/or injection by insects.
The viroid genomic RNA is transported to the chloroplast.
New genomes exit the cell presumably using cell-to-cell transport and/or feeding by insects.