VIRION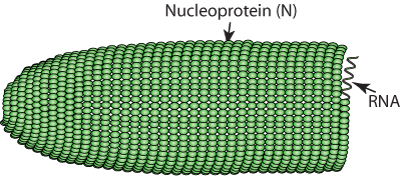 Virions have short bacilliform or bullet-shaped particles with modal lengths of 100-150 nm and diameters of 40 nm. No envelope structure have been detected, but the presence of a glycoprotein in the genome suggests it could happen.
GENOME
Negative-stranded RNA linear genome, composed of two segments.
GENE EXPRESSION
The viral RNA dependent RNA polymerase binds the encapsidated genome at the leader region, then sequentially transcribes each genes by recognizing start and stop signals flanking viral genes.
ENZYMES
REPLICATION
NUCLEUS