VIRION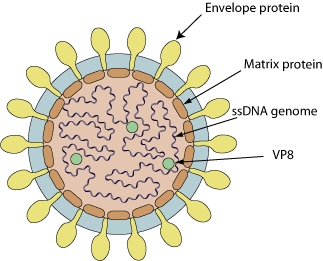 Enveloped, pleomorphic virion about 40nm in diameter.
GENOME
Circular ssDNA genome of 7.0 to 10.6 kb, encoding 8 to 16 ORF.
GENE EXPRESSION
The ds DNA genome is probably transcribed by host RNA polymerase.
REPLICATION
CYTOPLASMIC
Virus attaches to host cell, and genomic DNA penetrates into the cytoplasm.
Presumably the ssDNA is converted to dsDNA.
Transcription of viral genes, possibly by a host RNA polymerase.
Genome replication, possibly by rolling circle
Assembly and release of virions.