Thogotovirus is a genus of ssRNA- viruses in the Orthomyxoviridae family that infect mammals and are transmitted by Ticks (arbovirus). In humans, these viruses can cause fevers and encephalitis.
VIRION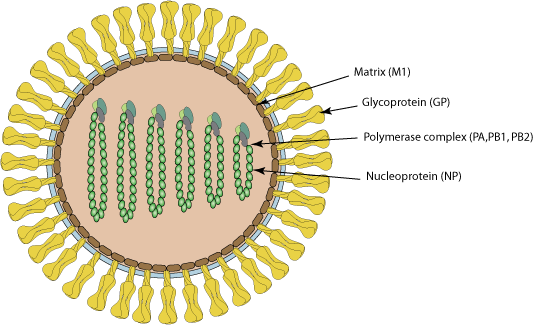 Enveloped, spherical. The virions are 80-120 nm in diameter
GENOME
segmented ssRNA(-) linear genome, encapsidated by nucleoprotein (NP) Contains 6 to 7 segments coding for 7 to 9 proteins. Segments size range from 0.9 to 2.3 kb. Genome total size is about 10 Kb
GENE EXPRESSION
Viral RNA polymerase (PB1, PB2 and PA) transcribes one mRNA from each genome segment. Transcription is primed by cap snatching. mRNA are polyadenylated by the viral polymerase stuttering on a poly U track. Segment 6 mRNA can be alternatively spliced, giving rise to mRNA coding for M1 proteins.
ENZYMES
REPLICATION
NUCLEUS