Satellite virus: infection requires host cell to be co-infected with helper virus
VIRION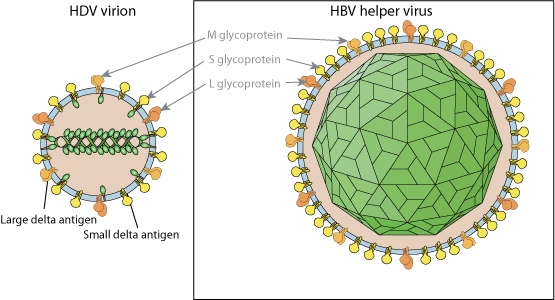 Enveloped, spherical about 22 nm in diameter. The virion is covered by helper virus membrane proteins.
GENOME
Circular, ssRNA(-) genome of 1,68 kb. Most of the genome displays complementary strands. Replication occurs by rolling circle, single genome being cleaved/ligated by ribozymes.
GENE EXPRESSION
Encodes for one protein. in Deltavirus, genome editing by host ADAR1 extends the S-HDAg ORF by 19 amino acids, inducing production of L-HDAg. Edited genome seems to be unable to replicate.
REPLICATION
NUCLEAR
Virion attaches to host receptors though helper virus surface protein.
Fusion of virus membrane with the vesicle membrane; the RNA genome is released in the cytoplasm and migrates to the nucleus.
Transcription of the single viral gene, promoting viral transcription and replication
Symmetrical rolling circle replication by host DNA-dependent RNA polymerase II
later, genomic RNA can be edited by host ADAR1, inducing packaging of viral genome at the RE.
Budding by helper viral proteins.