VIRION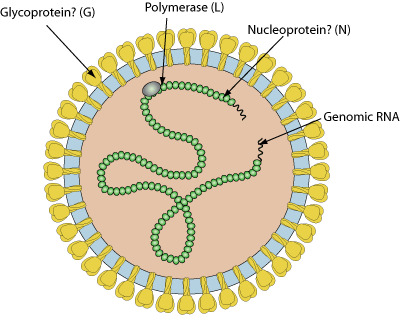 Unknown, discovered using viral metagenomics. Presumably enveloped.
GENOME
Negative-stranded RNA linear genome, about 10 kb in size. Encodes for five proteins. CAUTION:The deposited genome of Wenzhou tapeworm virus 1 appears to be segmented, which is not consistent within the Mononegavirales or the genomic organization of the family. The genome was presented here in nonsegmented form, on the assumption that the segmentation of the Wenzhou tapeworm virus 1 genome may be an artifact of genome assembly.
GENE EXPRESSION
The viral RNA dependent RNA polymerase binds the encapsidated genome at the leader region, then sequentially transcribes each genes by recognizing start and stop signals flanking viral genes.
REPLICATION
CYTOPLASM
Attachement of the viral glycoproteins to host receptors.
Fusion of virus membrane with the vesicle membrane.
Cytoplasmic ribo-nucleocapsids buds out of the cell,releasing new virions.