Rotavirus is a genus of viruses that belong to the family Reoviridae. Rotaviruses are non-enveloped viruses that have a double-stranded RNA genome. They cause gastro-enteritis in humans and many vertebrates.
VIRION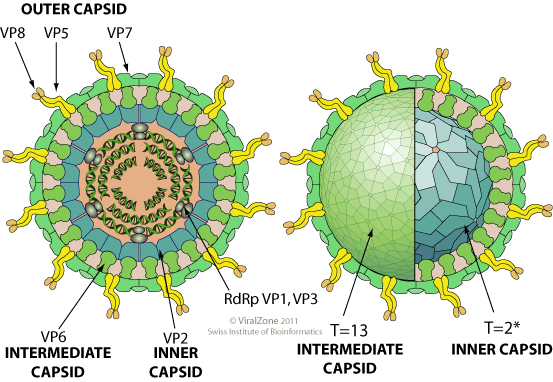 Non enveloped, icosahedral, non-turreted virion with a triple capsid structure, about 80 nm in diameter. The intermediate capsid has a T=13 icosahedral symmetry, the inner capsid a T=2* icosahedral symmetry.

GENOME
Segmented linear dsRNA genome. Contains 11 segments coding for 12 proteins. Segments size range from 667 to 3,302nt (SiRV-A/SA11). Genome total size is 18,550 bp (SiRV-A/SA11). The viral mRNAs contain 5'-methylated cap structures but lack polyA tail. Instead, rotavirus mRNAs have at their 3' end a consensus sequence (UGACC) that is conserved in all 11 viral genes.
Co-infection of cells with different rotavirus strains belonging to the same serogroup A, B or C undergo mixing of the genome segments (genetic reassortment).
GENE EXPRESSION
The dsRNA genome is never completely uncoated, to prevent activation of antiviral state by the cell in response of dsRNA. The viral polymerase VP1 synthesizes a capped mRNA from each dsRNA segment. This capped mRNA is translocated to the cell cytoplasm where it is translated. NSP3 may act as a translation enhancer for viral gene expression.
Most segments are generally monocistronic. However, some segments encode more than one protein:
Segment 11 of rotaviruses A (but not rotaviruses C) encodes a second out-of-frame protein NSP6 by leaky scanning. Rotaviruses C NSP3 seems to produce two proteins by ribosomal skipping. Rotaviruses B segment 5 contains at least two potential ORFs. Segment 5 of the novel adult diarrhea virus, ADRV-N (nongroup A, B, C) may be cleaved into two products.
ENZYMES
REPLICATION
CYTOPLASMIC
Attachment of the viral VP4 protein to host receptors mediates clathrin-mediated endocytosis of the virus into the host cell.
Particles are partially uncoated in endolysosomes (loss of the VP4-VP7 outermost layer), and penetrate into the cytoplasm via permeabilization of host endosomal membrane.
Early transcription of the dsRNA genome by viral polymerase occurs inside these now double-layered particles (DLPs), so that dsRNA is never exposed to the cytoplasm. The nascent (+)RNAs are extruded into the cytoplasm and serve as template for viral proteins synthesis.
Progeny cores with replicase activity are produced in cytoplasmic virus factories (also called viroplasms). This implies synthesis of complementary (-)RNA and initial steps of viral morphogenesis.
Late transcription occurs in these progeny cores.
At the periphery of virus factories, these core are coated with VP6, forming immature DLPs that bud across the membrane of the endoplasmic reticulum, acquiring a transient lipid membrane which is modified with the ER resident viral glycoproteins NSP4 and VP7; these enveloped particles also contain VP4. As the particles move towards the interior of the ER cisternae, the transient lipid membrane and the nonstructural protein NSP4 are lost, while the virus surface proteins VP4 and VP7 rearrange to form the outermost virus protein layer, yielding mature infectious triple-layered particles.
Mature virions are released presumably following cell death and associated breakdown of host plasma membrane.