VIRION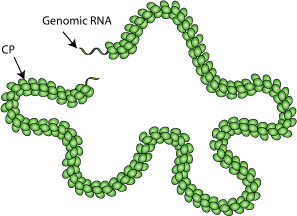 Highly flexuous, naked nucleocapsids about 3 to 4 nm in diameter, forming open circles.
GENOME
Segmented negative-stranded RNA linear genome
Contains 3 to 4 segments coding for up to seven proteins.
GENE EXPRESSION
The viral RNA dependent RNA polymerase (L) binds to a promoter on each encapsidated segment, and transcribe a messenger RNA. Translational frameshift may occur on RNA-4 mRNA.
ENZYMES
REPLICATION
CYTOPLASMIC
Virus enters host cell either carried out by a fungus, or by insect vector: ribonucleocapsid segments are released in the cytoplasm.
Transcription, viral mRNAs are capped in the cytoplasm.
Replication presumably starts when enough nucleoprotein is present to encapsidate neo-synthetized antigenomes and genomes.
The ribonucleocapsids newly synthetized can infect neighbour plant cells or be transported by fungus or insect to new plant.