Several TRAF family members have been involved in the signaling pathway leading to the establishment of the antiviral state in the infected cells by viruses. For example, TRAF2(U12597:9606) has been shown to be essential in RIG-I(AF038963:9606) mediated expression of interferon upon Sendai virus infection in mouse fibroblasts. TRAF3(U21092:9606) and TRAF6(U78798:9606) are also key components of the signaling pathway downstream of MAVS.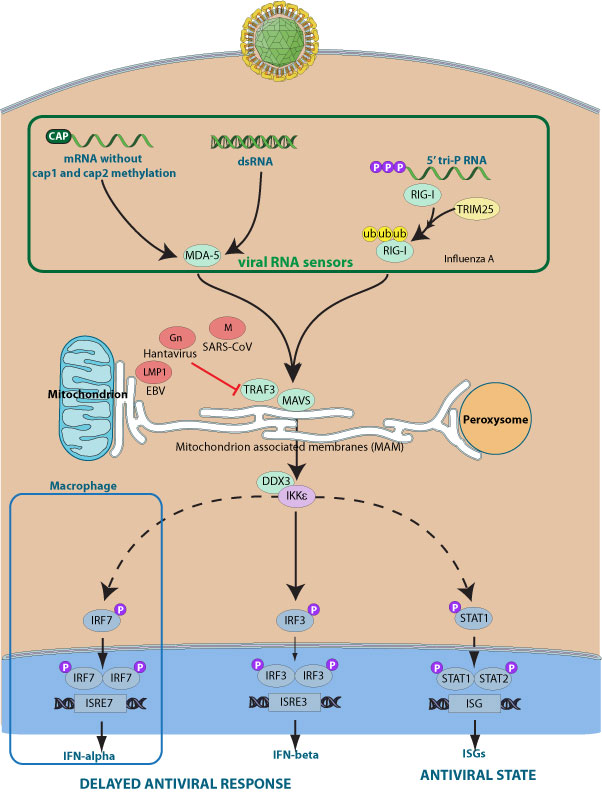 Therefore a lot of viruses encode proteins which target the TRAF protein family. NS5A(P27958) from hepatitis C virus, rotavirus VP4(A2T3T2), hepatitis delta virus LHDAg(P29996) and SHDAg(P0C6L3), as well as vFLIP(P88961) from KSVH directly interact with TRAF2(U78798:9606). These interactions modulate production of cytokines by infected cells.
The TRAF3(U21092:9606) protein is also the target of many viral proteins. Hantavirus Gn(P08668), Severe acute respiratory syndrome coronavirus M(P59596), and herpes virus LMP1(P03230) interact with TRAF3(U21092:9606) and interfere with the TRAF3(U21092:9606) / TBK1(AF191838:9606) interaction required to activate IRF3(Z56281:9606) / IRF7(U73036:9606).