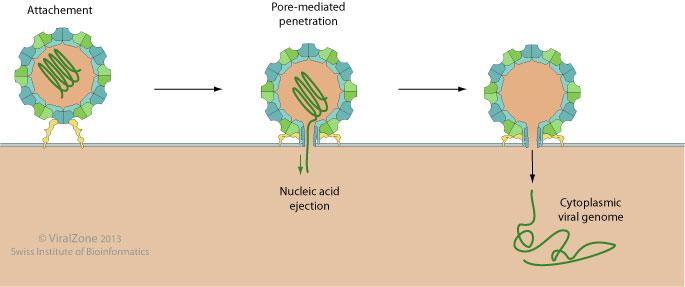 Some non-enveloped viruses inject their genome into the host cytoplasm through creation of a pore in the host membrane. This is mediated by a viral pore-forming peptide associated with the viral capsid.

The icosahedric capsid of picornaviridae is able to create a pore either at plasma or endosomal membrane to inject their genomic RNA.

Papillomaviridae and polyomaviridae seem to enter the endoplasmic reticulum where their icosahedric capsid is disassembled, releasing pore forming proteins that induce injection of genomic DNA into cell cytoplasm.

Prokaryotic viruses such as caudovirales eject their genome into the host cytoplasm through a complex ejection apparatus. This mechanism often involves pore formation in the host membrane(s).