VIRION
Virions consist of four to five non enveloped nucleocapsids, about 3-10 nm in diameter
GENOME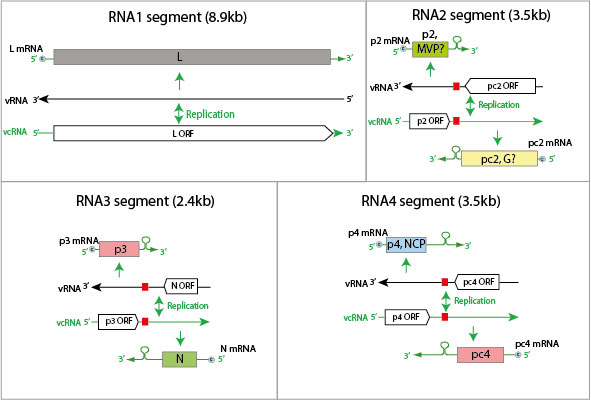 The genome is segmented and consists of four or five segments of linear negative-sense and ambisense single-stranded RNA. The complete genome is around 16 kb.
GENE EXPRESSION
The viral RNA dependent RNA polymerase (L) binds to a promoter on each encapsidated segment, and transcribes the mRNAs. These are capped by L protein during synthesis using cap snatching . Segments 2, 3 and 4 are ambisens.
REPLICATION
CYTOPLASMIC
Virus enters into host cells by mechanical injection or through plasmodesmatas
Transcription, viral mRNAs are capped in the cytoplasm.
Replication presumably starts when enough nucleoprotein is present to encapsidate neo-synthetized antigenomes and genomes.
The ribonucleocapsids migrates to new cells using movement proteins.