Molecular biology
VIRION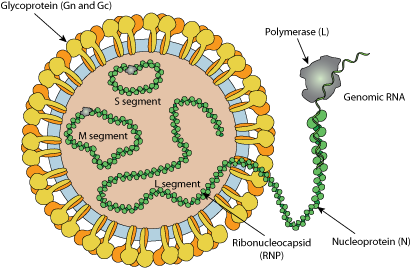 Enveloped, spherical. Diameter from 80 to 120nm.
GENOME
Segmented Negative-stranded RNA linear genome, for a total of 12.5 kb. Encodes for five proteins.
GENE EXPRESSION
The viral RNA dependent RNA polymerase (L) binds to a promoter on each encapsidated segment, and transcribes the mRNA. These are capped by L protein during synthesis using cap snatching .
ENZYMES
CYTOPLASMIC