VIRION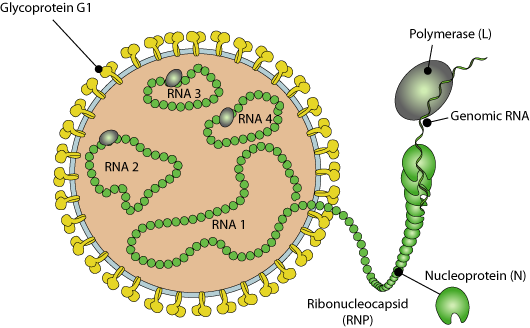 Enveloped, spherical.
GENOME
The genome is segmented and consists of four segments of linear negative-sense and single-stranded RNA. The complete genome is around 12.2 kb.
GENE EXPRESSION
The viral RNA dependent RNA polymerase (L) binds to a promoter on each encapsidated segment, and transcribes the mRNAs. These are capped by L protein during synthesis using cap snatching
ENZYMES
REPLICATION
CYTOPLASMIC
Virus attaches to host receptors.
Fusion of virus membrane with the cell membrane; ribonucleocapsid segments are released in the cell.
Transcription, viral mRNAs are capped in the cytoplasm.
Replication presumably starts when enough nucleoprotein is present to encapsidate neo-synthetized antigenomes and genomes.
The ribonucleocapsids buds from a cellular membrane, releasing the virion.