VIRION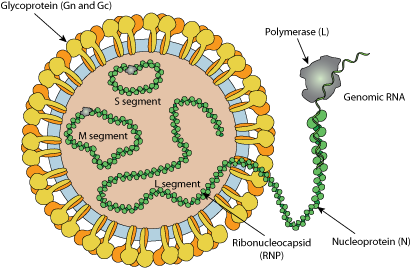 Enveloped, sphericalwith a 80nm diameter. Some virions have a tubular morphology of about 60 nm ???? up to 600 nm.

Evolutionary and phenotypic analysis of live virus isolates suggests arthropod origin of a pathogenic RNA virus family
Marco Marklewitz, Florian Zirkel, Andreas Kurth, Christian Drosten, Sandra Junglen
Proc. Natl. Acad. Sci. U.S.A. June 16, 2015; 112: 7536????7541
GENOME
Segmented Negative-stranded RNA linear genome, for a total of 13.7 kb. Encodes for four proteins.
GENE EXPRESSION
The viral RNA dependent RNA polymerase (L) binds to a promoter on each encapsidated segment, and transcribes the mRNA. These are capped by L protein during synthesis using cap snatching .
ENZYMES
REPLICATION
CYTOPLASMIC