Orthohantavirus is a genus of ssRNA- viruses in the Hantaviridae family that infect Rodents and rarely humans. In humans, these viruses can cause hemorrhagic fever with renal syndrome, or Hantavirus pulmonary syndromes.
VIRION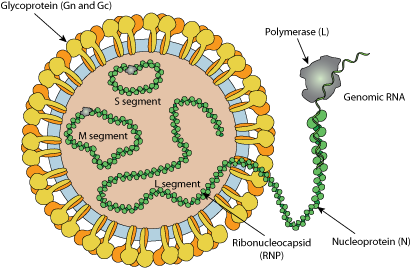 Enveloped, spherical. Diameter from 80 to 120nm.
GENOME
Segmented Negative-stranded RNA linear genome, L segment is between 6.8 and 12 kb, M segment between 3.2 and 4.9 kb and S segment between 1 and 3 kb.
Encodes for four to six proteins. Some hantaviruses also encode a NSs protein on their S segment.
GENE EXPRESSION
The viral RNA dependent RNA polymerase (L) binds to a promoter on each encapsidated segment, and transcribes the mRNA. These are capped by L protein during synthesis using cap snatching . Transcription is terminated by a strong hairpin sequence at the end of each gene. mRNAs are capped by L protein during synthesis. Puumala virus expressed an additional NSs by leaky scanning in the NS gene.
ENZYMES
REPLICATION
CYTOPLASMIC