VIRION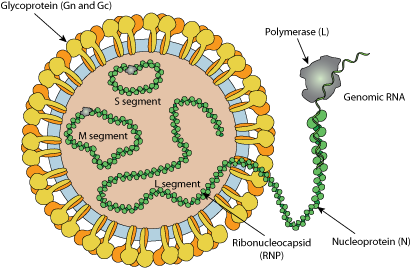 Enveloped, spherical. Diameter from 80 to 120nm.
GENOME
Segmented Negative-stranded RNA linear genome, L segment is between 6.8 and 12 kb, M segment between 3.2 and 4.9 kb and S segment between 1 and 3 kb.
Encodes for four to six proteins.
GENE EXPRESSION
The viral RNA dependent RNA polymerase (L) bind to a promoter on each encapsidated segment, and transcribes the mRNA. These are capped by L protein during synthesis using cap snatching . Transcription is terminated by a strong hairpin sequence at the end of each gene. Orthobunyavirus express alternative ORF by leaky scanning Phlebovirus and Tospovirus have ambisense segment(s).
ENZYMES
REPLICATION
CYTOPLASMIC